Woodford Reserve is a super premium, small batch Bourbon handcrafted at the historic Woodford Reserve Distillery, America's oldest and smallest working distillery, circa 1812.
Located in the heart of Kentucky's Bluegrass Region, The Woodford Reserve distillery is the only distillery where traditional whiskey making is still practised. Cypress vat fermentation, triple copper pot stills, the finest grains and pure limestone water are used to craft this unique bourbon. The result is a bourbon of exceptional richness, depth and character with a smooth, well-rounded finish.
Since its release, Woodford Reserve has won numerous gold medals at the world's most prestigious spirits tasting competitions, including the title of The World's Best Bourbon three times at the San Francisco Spirits Competition.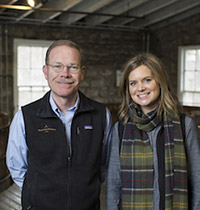 Profile
Distillers - Chris Morris & Elizabeth McCall

Chris and Elizabeth have been integral in driving innovation and shaping the story of Woodford Reserve, sharing the belief that the keys to making the World's Finest Bourbon are not only time and patience, but science and art. Chris began his career in bourbon in 1976, while Elizabeth moved from her 9-year tenure in R&D to Assistant Master Distiller in 2018. Together they craft whiskeys that are a spectacle for the senses.