Tuaca's original recipe dates to the renaissance where it is rumoured to have been created for Lorenzo the Magnificent, a patron to Michelangelo and Botticelli.
In 1938 Tuscan brother's in-law Geatona Tuoni and Giorgio Canepa re-discovered this centuries old recipe, made it even more desirable and renamed it Tuaca, a combination of their last names. The exact recipe is a secret which has remained in the hills of Tuscany.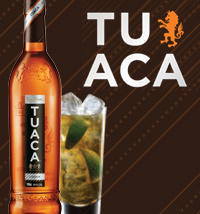 Profile
Based on fine, cask-aged brandy, with an exhilarating blend of vanilla and orange, Tuaca has an intriguingly fruity flavour and a heavenly amber glow. It is smooth, irresistible and uniquely different - the exact ingredients and method of production remain a 500-year-old secret.
Enjoy Tuaca as a straight shot; try it in your coffee or savour it on the rocks as an after dinner drink. It's also the barman's dream, as Tuaca provides a distinct foundation for a comprehensive range of cocktails - Ideal for re-vamping traditional old favourites - and perfect for creating his/her own signature drinks.