Drappier: one of the finest boutique houses in Champagne

Drappier is all about natural authenticity. It aspires to that ideal by using the lowest sulphur content of any champagne and low-dosage, thus providing a dry, aromatic, elegant expression. Drappier is also very terroir-focused through organic and traditional winemaking practices.
Drappier is Pinot-dominant and that defines the style of the House. It means that Drappier delivers a more structured, fleshy, toasty champagne -- ideal to match with a wider spectrum of food and beloved by sommeliers worldwide.
Founded in 1808, there is no shortage of history. Monsieur Drappier owns vaulted cellars that are among the oldest and most extensive in Europe, tracing back to 1152.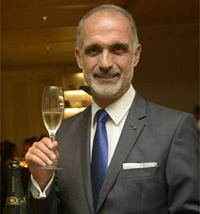 Winemaker Profile
Michel Drappier, President of the Drappier House and the 7th generation of the Drappier family.