Kilikanoon was founded in 1997 when winemaker Kevin Mitchell purchased property in South Australia's picturesque Clare Valley. Since it's inception, it has maintained a strong focus on both traditional winemaking methods and meticulous attention to fruit selection. This has resulted in a range of premium, award winning wines of strong regional character. Collectively Kilikanoon will continue with its uncompromising approach to quality.
"This is one of the most brilliantly run wineries in Australia, and the quality of the entire portfolio is impressive thanks to the impressive talents of winemaker Kevin Mitchell." - Robert Parker Jnr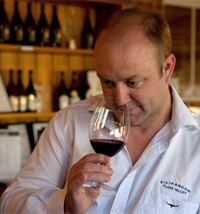 Winemaker Profile
Kevin Mitchell - Bachelor Applied Science Agriculture. Graduate Diploma Wine Technology Graduated in 1992 from Adelaide University, Purchased Kilikanoon property in late 1997 Kevin has worked within the wine industry since 1993 starting as cellar hand, then and assistant winemaker, then to Winemaker with range of companies including; Krondorf, d' Arenberg, Kingston Estate, Orlando, BRL Hardy, Kendal Jackson and Willamette Valley (USA) First Kilikanoon release was in April 1998 - the 1997 Shiraz, Cabernet, Grenache and two 1998 Rieslings.

Kevin works alongside Peter Warr (Chief Winemaker) and Kirby Graudins (Senior Winemaker).
Classic Range
Killermans Run Range
Premium Range