Tequila Herradura is one of the oldest and most respected producers of tequila in the world. Since 1870, Tequila Herradura has produced the world's finest tequilas in the heart of Mexico's tequila region. The Casa Herradura distillery, one of Mexico's most historic distilleries, where the entire production process right down to the bottling is completed in just one location. Herradura offers a range of 100% natural blue agave tequilas, carefully crafted using time honoured and traditional methods such as cooking the agave in clay ovens and fermenting naturally with wild yeast. It received acclaim for creating the first barrel-aged tequilas and its products regularly win top honours at the world's most prestigious spirits competitions.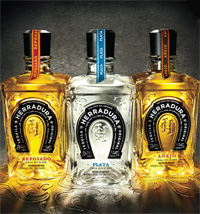 Profile
It's in Amatitan, Jalisco, where the daily effort and constant dedication come together with the benefits that nature brings, to produce the Best Tequila in the World. Only 35 km from Guadalajara is where Casa Herradura, for 136 years has forged a solid company and leader in Tequila.
Respectful for legal, social and employment procedures. Where the tradition of producing the only Tequila made from 100% Agave Tequilana Weber - the blue variety, 100% natural, 100% estate bottled and 100% rested and aged in barrels of white oak. A company that remains to this day in Mexican hands. Wine Enthusiast - Winestar Awards - 2007 Distiller of the Year.