Gekkeikan is the world's oldest family owned liquor company. In 1637, the founding father, Jiemon Okura, established his Sake brewery in Kyoto's famed "Fushimi" district, known throughout Japan for its excellent quality water. Now, over 370 years later, Gekkeikan continues to make fine sake, placing the choicest ingredients and utmost care into each bottle bearing the name. Gekkeikan pioneered bottling sake in 1909 and has continued to innovate and lead the sake industry. Gekkeikan is the number one selling sake in the world and is now exported to 69 countries. With the huge upswing in interest in Japanese food and flavours, authentic sake is a must.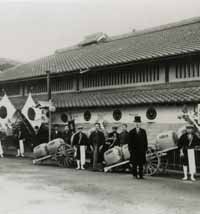 Winemaker Profile
Warmed sake, or kan, is a common choice in the cooler months. When heated, the fullness of body becomes more pronounced. However care must be taken to avoid overheating which can effect the perception of taste. In general, it is recommended to serve kan sake at 40-50 C.
Sake is most popular with Japanese cuisine but today is a popular complement to other Asian cuisine as well as vegetarian, fish, poultry and cross-over 'fusion' dishes. Sake's characteristic delicate taste and fragrance makes it an ideal choice for healthy and light foods.