The Petaluma story is about distinguished vineyard sites and meticulous attention to detail. Petaluma was founded in 1976 with the sole objective to produce ultra-premium wines by carefully selecting the best sites within a particular Australian region suited to a chosen variety, thus creating the concept of Petaluma's 'Distinguished Sites.' This is their 'distinguished vineyards' philosophy. This pioneering attitude towards responsive and instinctive viticulture and winemaking is as uncompromising and true today as it was more than 35 years ago.
The wines of Petaluma are a singular exploration of this founding belief. Through trial and building of expertise, Petaluma has evolved and is regarded within the industry, as a crusader of the modern Australian wine industry. Petaluma has developed a prestigious reputation over the past four decades with five star awards and Langton Classifications.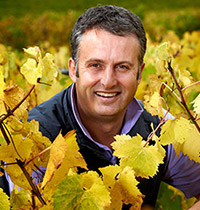 Winemaker Profile
Mike Mudge - Senior Wine Maker.

Adelaide Hills born and bred, Mike graduated with a Bachelor of Arts Degree whilst working at the Petaluma winery in the early 1990s. He developed his passion for wine whilst working vintage in Oregon in 1995 and on his return home undertook his degree in Oenology at Charles Sturt University.

Mike was the Sparkling Winemaker for Croser from 2000 and in 2005 was promoted to Petaluma Winemaker in 2005, then Winemaker/Manager in 2010. He was instrumental in the build and transition of Petaluma to its new state of the art winery at Woodside in 2014.

Now in his 30th year at Petaluma he brings a breadth of experience and knowledge in all facets of the business from vine to glass. Mike has been blessed with exceptional vineyards that display the true expression of the varieties that Petaluma produces.