Bruichladdich is an artisanal single malt distillery on the Hebridean Island of Islay, Scotland. Its aim is to create the most thought-provoking whisky possible. Bruichladdich spirit matures all its life in warehouses above Loch Indall (the fresh salt tang is a signature accent of Bruichladdich single malt) and it is the only major distiller to bottle spirit on the island itself. Bruichladdich whisky is bottled naturally, un-chill filtered and with no added colour. This retains the vital natural oils which give its spirit its complex flavour profile and mouthfeel.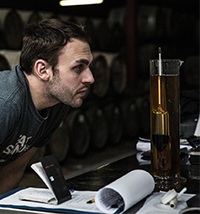 Profile
In our modern world in which most whisky is destined for cheap blends, time is money. Distilling has become about efficiency, computerisation, high-density fermentation. The quicker the process, the cheaper the product.

Our distillery does not produce whisky for blends, everything is retained for our Bruichladdich single malt. We have the time, space and the philosophy to run our charismatic old Victorian equipment in our own idiosyncratic way. This is no sci-fi, Blade Runner set up bristling with steel, pipes and motors, and lit by the glow of computer screens. The simplicity of the Spartan layout is the proof of a beautifully simple philosophy. Less is more. - Distiller of the Year not once, not twice, but three times, in 1998, 2000 and again in 2003.