A luxurious single malt from the Highland region. No other Scotch captures the essence and the tradition of its people like The Dalmore. For over 160 years, Dalmore Distillery has produced malts of great character and distinction. This is thanks to the dedication in recent years of Master Distiller Richard Paterson. Richard is the third generation of his family to serve as Master Distiller - a rich family lineage that is unmatched in the industry. Richard and his band of stillmen create The Dalmore range of expressions which continues to receive acclaimed awards for both its exceptional spirit and innovative packaging. Created in the prime barley-growing district of Scotland, The Dalmore is a spirit of distinction and pedigree. Shaped by time, water and weather, it deserves its place as one of the world's most respected whiskies, and rewards its loyal admirers with a unique, full taste that reflects its origins.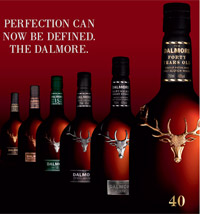 Profile
The Dalmore distillery is located in Alness, about 20 miles north of Inverness, and is easily accessible by car. Located in the Highlands of Scotland, the distillery is situated in a breathtaking setting, with its rich bird life of oystercatchers, herons and sea birds.
Established in 1839 by Alexander Matheson, Dalmore Distillery sits on the banks of the Cromarty Firth, overlooking the rich and fertile Black Isle, the "big meadowland," from which it takes its name. The distillery was later purchased by the Mackenzie family in 1886, and the "twelve pointer stag" was introduced from their clan crest - a symbol that still adorns each and every bottle of The Dalmore to this day.