ALCOHOL-REMOVED WINE. A healthy alternative to alcoholic beverages - only has half the calories of normal wine and only 0.5% ABV. To the wine drinker who appreciates the taste and full complexity of premium wine, but is searching for a non-alcoholic alternative as a safe and comparable lifestyle choice, Edenvale offers you a quality range of alcohol-removed wines at an affordable price. The Edenvale wines are produced using revolutionary technology that gently removes the alcohol while preserving the delicate aromas and flavour essences of premium wine. Perfect for expectant or breastfeeding mothers, sober drivers or the health conscious.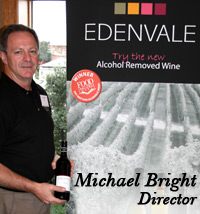 Profile
CELEBRATE, Feel Great.
Edenvale wines are non-intoxicating.
When alcohol is removed from a wine, so too are large quantities of calories. Alcohol is created from the fermentation of natural sugars found in the grape, hence, the strong relationship between alcohol, sugar and therefore - calories. The removal of alcohol from wine translates to a reduction in calories to levels in excess of 30%, depending on the total extraction volume. For example, the removal of 13% alcohol by volume translates to nearly a 40% calorie reduction.