Metaxa was established in 1888 by a visionary entrepreneur named Spyros Metaxa. In a league of its own, Metaxa goes beyond category definitions and is possibly the only amber spirit that requires the unique art of selecting, ageing and blending distillates and Muscat wines. Beautifully crafted, highly aromatic, dry aniseed spirit, that delivers a distinctive Greek-Mediterranean attitude. Ouzo by Metaxa brings together 10 botanicals, among them the rare Masticha, harvested by hand in the Aegean island of Chios, for a unique and aromatic ouzo. Metaxa is the leading exported spirit from Greece.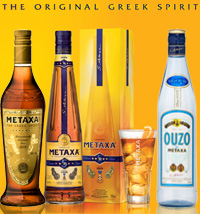 Profile
Foundered by Spyros Metaxa from the island Kefalonia. In 1888, a little over 50 years after the Greek War of Independence, Spyros created the first Greek brandy. He visualized a drink that would conquer the world and therefore he soon built new factories in Constantinople (present-day Istanbul) and in Odessa.
Unfortunately death cut his life short, but his sons carried on his work. Metaxa brandy is the only Greek industry that survived the two world wars. In 1968 the factory was rebuilt and, although it consists of state-of-the-art equipment, its output tastes the same as from the traditional method.