The Barossa, thanks to its freedom from Phylloxera, is home to some of the oldest, dry grown vines in the world. By identifying some of these pockets of low-yielding "gold" and securing the harvest from them through share farming, resulting in the very best fruit for Torbreck wines.
A love of Rhone Valley wines from France has led Torbreck to base its focus around the classic varietals; Shiraz, Grenache and Mataro (Mourvedre), which are suited to of both the Barossa Valley and the Rhone Valley. At Torbreck we love the intense, rich, Rhone-like flavours that come from old Barossa vines, particularly Shiraz and Grenache. Further selection of wines avaliable on request.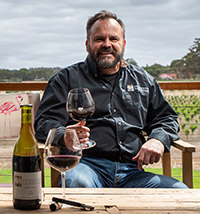 Winemaker Profile
Ian Hongell was born in New South Wales before settling to the Barossa Valley with his family at the age of 4. After completing high school he spent a gap year working in both Australian and Californian wine regions honing the direction of his path prior to university.
Late 2016 Ian accepted the position as Chief Winemaker for Torbreck Vintners. Commencing with the 2017 harvest, this rare opportunity afforded Ian the chance to expand his Barossa experience, leaving no stone un-turned from some of the oldest vineyards in the world. Also in 2016 Ian was appointed by the fraternity order of the Barossa as a "Baron of the Barossa" in recognition for service to the Barossa community and winemaking. A chosen few receive this award in their lifetime.
In 2019 Ian accepted the role as Chief Winemaker & General Manager of Torbreck Vintners Barossa Valley.