Chianti Specialists with true respect for terroir. Tuscany seduces with its scenery, Cecchi - its Chianti.
At the heart of this distinguished winery is the Cecchi family, who have been involving themselves with all things vinous since 1893, when ancestor Luigi first took a job as a wine taster. While they innovate and look forward, it is the experience of the family going back over a hundred years that stands them in good stead to produce great wines. They are pioneers of the Maremma region, on the Southern Tuscan Coast where Sangiovese is coming into its own, and have decades of knowledge of the terroir. Their intensely flavoured Classico wines and stunning Riservas illustrate how Chianti can be as serious a contender as anything from the Rhône or Burgundy, when given the respect that this estate shows it.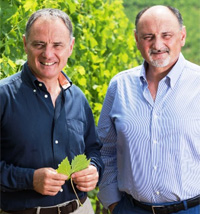 Winemaker Profile
Today, the family-run company is headed up by Cesare and Andrea; not ones to remain motionless, they currently own a total of 300ha spread across four different areas in central Italy, their home-base nestled in among the Chianti vines in the heart of Tuscany. One of the most important and distinctive aspects of Cecchi is the strong bond between the family and the company. This bond, and this passion, guarantee continuity in terms of products, interpersonal relationships and the desire to improve.