Perched high on the hills overlooking Marlborough's Awatere Valley, our Loveblock is far removed from the agricultural bustle in the valley below. From here you can almost see the end of the planet; the peace lifts you above your troubles. At Loveblock, Kim and Erica are charged with creating the best wine they can to express this extraordinary place and its unique aspect. By following their deeply held belief in ethical farming they enable the wine to show its true and naked terroir. Loveblock is Erica and Kims heart and soul.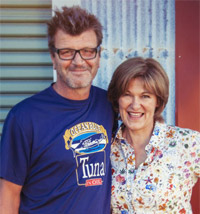 Winemaker Profile
An enduring love for the land, combined with a belief in ethical farming and a passion for winemaking has drawn two of New Zealand's most successful wine entrepreneurs back to the industry.
Loveblock is the new brand that realises the vision and passion Erica and Kim have to create New Zealand wine that best reflects the terroir on which the grapes are grown while minimising chemical input. Erica has found her Loveblock - a treasured and formidable landscape comprising 85 hectares in Marlborough's Awatere Valley.
In a journey that began in 2004, here the duo has planted several grape varietals, farming organically, true to their deeply held belief of ethical farming and land care which enables the wine to reflect its naked or true terroir. A second vineyard in the Bendigo area in Central Otago is dedicated solely to Pinot Noir.