Single Malt Whisky from the Isle of Jura. Off the West Coast of Scotland lies a magical island with whisky distilling at its heart - The Isle of Jura. The mystical landscape, the abundance of myths and legends surrounding Jura, and the eccentricity of the island all go towards making Jura a mystery that fuels inquiry and discovery. Beautifully crafted from only the finest malt, pure spring water, soft sea breezes and generations of tradition, the Jura taste experience is distinctive from all other Island malts - a diversity of lighter and more delicate elements through to the profoundly peated Prophecy.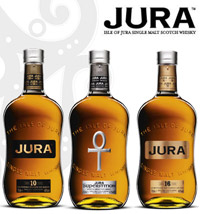 Profile
Graham Logan - Distillery Manager
Graham Logan started working at Jura Distillery as a trainee mashman one cold Sunday night in November 1991. Under the watchful eye of his trainer Kenneth, Graham learned about malt and how to extract the sugars. This was just the first step on his long journey to mastering the time-honored craft of whisky distillation. Over the next two and a half decades, Graham worked in every department at the distillery, mastering each stage of production. Today, Graham is now proudly our Distillery Manager.

Even after 25 years, Graham admits that every day presents a new challenge and reward. He takes pride in the whisky he and his talented team of distillers produce and their passion is as much a part of what makes Jura Whisky unique as the incredibly tall stills that give it its smooth delicate flavor.