Established in 2001, Waipara Hills has a proud history of creating award winning wines that celebrate the South Island of New Zealand. Waipara Hills champion the land, its wine, hospitality and its people.

Their winemaking style is about crafting perfect harmony between the vineyard and winery, encouraging the characteristics of each season's fruit to shine. The result is wine that is rich, textural and bursting with complex flavour. From the vineyard to the winery, their team are hands-on in perfecting their craft, pouring a little of themselves into everything they do.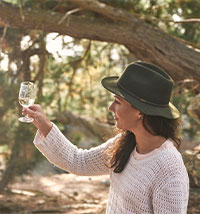 Winemaker Profile
Krystal Palmer

After four years tripping around the globe, Krystal returned home to Marlborough, but with itchy feet. Looking for a career change, Krystal bowled up to the local polytech open day, seeking inspiration. Inspiration was found and the rest is history – Krystal graduated with her Bachelor of Viticulture and Oenology from Lincoln in 2012. Krystal has experience across many facets of winemaking, including assistant viticulturist and winemaker, and has done vintages in Marlborough, Waipara, United States and China.