The Love, Tito's evolution started in Austin, Texas. Tito was new to the vodka business, still struggling to make ends meet while building the first legal distillery in the state of Texas. One day he got a phone call from a local nonprofit asking if he would donate a couple cases of vodka for a fundraising event. Tito agreed and showed up with a couple of cases. They liked the vodka and they told their friends.

As the company grew, Tito empowered each and every member of the team, regardless of their role, to support the causes they were passionate about in their local communities. The goal of Love, Tito's is simple: to turn spirits into love and goodness. Make the world a better place—in whatever way moves you.

Tito's Handmade Vodka is proud to have supported the following New Zealand Charities: Paw Justice, Sustainable Coastlines, The Tania Dalton Foundation.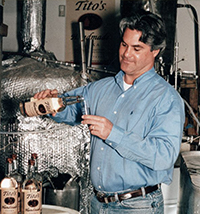 Profile
Tito Beveridge is a completely self-taught distiller and relied on prohibition-era images of pot stills and lore from the oil fields to figure out how to do it. After trying all kinds of bases, he settled on corn because of the soft, rounded shoulders and smooth, crisp finish it gave his vodka. Distilling from corn also makes Tito's Handmade Vodka naturally Gluten-Free. The water used in Tito's Handmade Vodka is locally sourced and much of it is naturally filtered through limestone.