The Winemakers Wife brand is the creation of husband and wife business partners, Simon McGeorge and Olive Hill. Simon is a winemaker with over 20 years' experience making fine wines for international and New Zealand labels. He has received numerous awards for his wines, but was most thrilled when The Winemaker's Wife received 2 gold medals and a trophy in its inaugural year.
Olive is the inspiration for the brand. She has qualifications in language study, foreign culture, history, music, makeup and fashion. Her ideas influence the wine styles and presentation. She is the driving force behind the sales and marketing and is an enthusiastic ambassador for the brand.
Together Simon and Olive have created a range of wines that they are proud to share with their friends and customers. The wine's back label says it all; This wine celebrates our partnership and is a tribute to all that can be achieved by two people working together.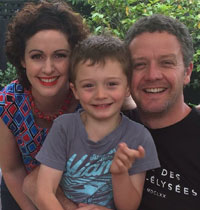 Winemaker Profile
The current wine range is produced from grapes grown in the beautiful North Canterbury wine region of Waipara Valley. The wines are crafted by their award winning winemaker, Simon McGeorge, using traditional methods, executed with modern tools and technology.