The Maker range of wines are crafted with defined quality principles and a slight rebellious spirit, combined with a desire to really live life. We capture the true essence of wines which are unique and genuine. Exclusive to On-Premise.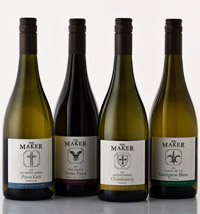 Winemaker Profile
Fleur de lis: Used to symbolise events of special significance.
Divinity Cross: Divinity is 'the word' - representing the benchmark of this variety.
Knighthood: Used to symbolise a position of power and loyalty.
Fire Eagle: 'Capturing the essence', bold and soaring, a vision of power whilst being elegant.
Kings Key: The key to the door of enjoyment and fulfilment.