The First and Only Islay Gin. The Botanist is a gin of layered complexity. A progressive exploration of the Botanical heritage of the Isle of Islay. Nine classic gin botanicals are augmented by 22 local herbs and flowers, foraged responsibly and by hand from the hills, shores and bogs of this fertile hebridean island by a select team of botanical scientists. The result is a gin as much for the mind as the palate; a thinking person's gin. A roller coaster botanical odyssey in a glass.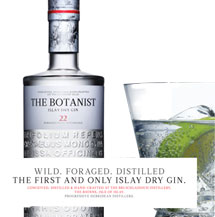 Profile
The name 'Botanist' portrays the high level of botanicals included in the distillation. Most gins have four to six but The Botanist is flavoured by 31 different botanicals. Nine of the traditional Gin aromatic botanicals are combined with a range of 22 native Island botanicals, including a rare subspecies of juniper. The wild botanicals are handpicked by the celebrated botanist Dr Gulliver and his team, with the final selection made by head distiller Jim McEwan.
An unprecedented 17 hour simmer distillation in the 'Ugly Betty' takes place to produce maximum aromatic extraction and an ultimate texture. The result is a highly distinctive, complex and floral gin. Islay spring water is used to dilute the grain spirit from 96% to 46% abv.