Established in 1944 by the Linder Family, St Hallett represents the very spirit and soul of winemaking in the Barossa. Over this time, it has grown and changed and reinvented itself, to achieve a rare distinction as one of Australia's most respected wine brands. For most of that time it was owned, or part owned, by one family, the pioneering Lindners, who arrived in the Barossa from Silesia in 1838. Through grim determination, heartbreak and near financial collapse the Lindner family managed to make a meagre living – initially from ports and sherries and marsala – in their galvo shed in the middle of the Barossa.
More than 70 years on from these humble beginnings, St Hallett has established a reputation for making wines with exceptional quality and character. From the beginning, St Hallett understood the importance of saving old vines and focusing on varieties that thrive in the Barossa region – particularly Shiraz. Over the years, St Hallett has built up a deep understanding of the rich tapestry of vineyard sites and climates in the Barossa, and with this, an appreciation for and understanding of local growers and the finest vines and highest-quality parcels of fruit the Barossa can offer. By tailoring fermentation and maturation to each parcel, the St Hallett winemaking team reveal the rich textures, depth and diversity of Barossa wine, as it should be.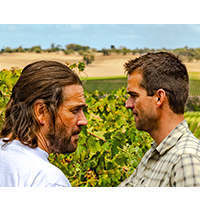 Winemaker Profile
Warmth, honesty and integrity are a way of life at St Hallett, and our tight-knit crew of winemakers best exemplify the St Hallett spirit.

The winemaking team's extensive experience, continuous sense of evolution, respect for the Barossa region and St Hallett's rich Barossa heritage, underpins the quality and integrity of St Hallett wine.
St Hallett winemaking team is made up of Darin Kinzie and Jeremy Ottawa. Darin grew up on a vineyard in California where wine was always a part of his life.A deeper curiosity in winemaking led him to Sonomaand the rest is history. Jeremy was born and raised in the suburbs of Sydney, New South Wales, where his love of the outdoors and all things green resulted in a career land scaping the leafy suburbs of Sydney.In 2000, Jeremy gained his first taste of the wine industry when he worked two vintages at Barossa Vintners in the Barossa Valley.
Blockhead Range
Gamekeepers Range
Premium Range