Freixenet (pronounced Fresh - a - net) was founded by Pedro Ferrer in 1889 and is the largest producer of sparkling wine in the world. At the same time, Freixenet are the leaders in the field of Cava production. Cava is the Latin name for cave and this is where the sparkling wines from Freixenet mature. There are over 150 million bottles of Freixenet maturing in 20km of Limestone caves in Penedes near Barcelona. High quality, and more affordable than Champagne, Freixenet is produced in the same painstaking manner. Just like Champagne, all the grapes are handpicked and gently pressed to produce a high quality, delicious sparkling wine.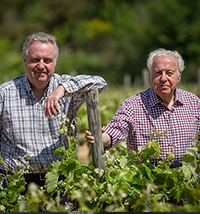 Winemaker Profile
The entrepreneurial spirit of Jose Ferrer as head of his family company took over the running of Freixenet in 1957 to lead an ambitious plan of modernization and expansion and a unique approach to sales and advertising.
Over the last 36 years Freixenet has undergone a remarkable international expansion, due in part to the great success of its best selling label Cordon Negro.
Launched in 1974 and packaged in a specially ground, distinctive black bottle, Cordon Negro became a huge success for Freixenet and served as its flagship product. By the early 2000's the company's exports reached more than 150 countries, making the firm the largest producer and first cava exporter in the world.