The Scott family, owners of Allan Scott Family Winemakers, have long had an affinity with Central Otago. The Scott Base Vineyard was established in 1994 and is situated in the heart of Central Otago on terraces overlooking the town of Cromwell and Lake Dunstan. Until now, the Scott Base collection of wines has been a classic "best kept secret". In their Kiwi way, the Scott Family stands quietly proud of what a great wine it is.
In ensuring there was no confusion between Scott Base in Antarctica and Scott Base vineyard, the Scott family formed a relationship with the Antarctic Heritage Trust which is entrusted to preserve the buildings and heritage status of Antarctica. The family in turn donate a percentage of sales of Scott Base wines to the trust and provide wines to events and ongoing activities.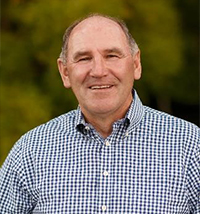 Winemaker Profile
Allan Scott is a name synonymous with wine. With nearly 40 years in the wine business, he is one of the most experienced people in Marlborough when it comes to growing, making and marketing wine. Allan's other passion lies in the heart of Scott Base Central Otago vineyards.