Part Time Rangers was built on a simple idea - to give back to the beautiful planet we live on.

To do this, they set out to build a community of Part Time Rangers that believe in that same set of values. Their concept is simple, to utilise consumer goods in a way that gives back to the planet by donating 10% of their profits towards saving endangered animals.

With Africa losing 3 rhinos a day to poachers for their horns, they decided that was a good place to start. They created White Rhino and partnered with Saving The Wild to help take down the criminal animal poaching rings in South Africa. This was followed up with African Elephant which continues the fight by protecting African Elephants in Tanzania.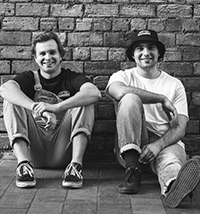 Profile
Oliver and William Deane have teamed up to help conservation efforts and protect some of our most endangered animals - The White Rhino in South Africa and the African Elephant in Tanzania 10% of all profits made by the company will go towards preventing poaching in these two countries, and help those on the front line to continue with their amazing work.