Rare Champagne expresses a revolutionary spirit, fighting against the trivialisation of vintages. As a noble tribute to Marie-Antoinette, its aristocratic origin, its refined style and its freedom are enjoyable by everyone. Each Rare Millésime is born from the struggle with nature. For instance, Rare Millésime 1976 was created after an exceptional drought, Rare Millésime 1985 following a terrible black frost. As the guardian of the Rare Champagne style, Régis Camus, selects the vineyards according to their expression rather than their rank in the scale of Premiers and Grand Crus. This uncommon blending approach contributes to the complex, distinguished, and yet pure style of Rare Champagne.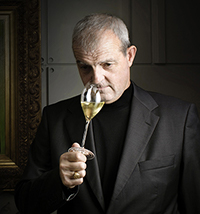 Winemaker Profile
Like his predecessors, Régis Camus the most awarded Cellar Master of the century*, succeeds in transforming Rare Champagne into a wine of patience with an unlimited potential for expression. Time is no longer an obstacle but a benefit which emphasizes the personality of each vintage.

Blossoming year after year, Rare Champagne expresses an elegant style: endless freshness, long-lasting minerality, with a radiant purity and subtle contrasts.