The energetic and enthusiastic Pascal Jolivet is one of a new breed of winemakers in the Loire Valley. While Pascal is a great respecter of tradition and values the minerally-scented wines that the region has produced for decades, he is also aware of the massive impact New World Sauvignon Blanc has had on the world stage. Aiming to make French Sauvignon - Pouilly-Fume and Sancerre - sexy again, Pascal targeted the great restaurants of France, showing how brilliantly his wines pair with food, and gaining a reputation amongst the Michelin-starred dining rooms for his powerful, yet elegantly, styled Sauvignon. While the accompanying finesse, balance and 'gun-flint' hints in his wine are all hallmark of the great Loire Valley, take note that this is a man who calls one of his wines 'Attitude': he's made a huge impact, and he intends to keep it that way.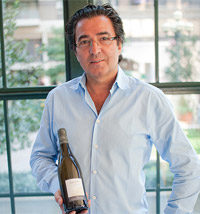 Winemaker Profile
Pascal Jolivet founded this estate in 1987, making it one of the youngest in the Loire Valley. In this short time, however, their Sancerre and Pouilly Fume have been called some of the best in the region.
Pascal Jolivet, one of the youngest and most dynamic winemakers of the Loire Valley, believes in letting nature make his wines, using techniques that allow the natural flavour and character of the fruit shine through.