HOMEGROWN – MARLBOROUGH
Owen and Wendy Glover were one of the first to plant grapes on their farm in Marlborough's renowned Dillons Point sub region in 1988. In 2007, eldest son Ben Glover launched the Zephyr label built around the family's values, the unique Dillons Point site, and the drive for single vineyard expression. The name Zephyr means a 'gentle breeze' – inspired by the prevailing wind that moderates Marlborough's climate.
ORGANIC FARMING – PURE AND SIMPLE
10 years after launching the wine brand Zephyr, Ben and his wife Susie have transitioned 17Ha of the family vineyard to organic farming practices. The 2020 vintage will carry the bio-gro certified organic logo – continuing Zephyr's journey to express the true flavours of the family farm, while having an emphasis on wine growing through soil health, biodiversity, regenerative farming, and ultimately mindful consumption.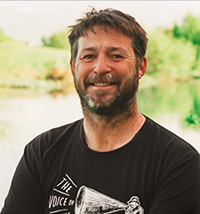 Winemaker Profile
Ben has spent more than two decades making wine for some of New Zealand's top brands, earning a reputation as one of the most talented winemakers in the business. An Inaugural Len Evans Scholar, Ben is a respected international wine judge - leading Cuisine Magazine's Wine Tasting Panel.

As Gourmet Traveller Wine stated when announcing Ben as the winner of their 2021 Leadership Award – "Glover makes some fantastic wine".