Our vision began in the air. That's where founder Chris Pask – flying in the cockpit of his topdressing plane – first saw the potential for growing exceptional grapes in the light, stony soils of the ancient Ngaruroro riverbed. Sheltered from Pacific breezes and several degrees warmer than any other New Zealand wine-growing area, it was in this sun-drenched valley that Chris planted Pask's first vines thirty years ago. A prized 1985 Cabernet Sauvignon marked our first vintage and from this modest beginning, the world-renowned Gimblett Gravels wine-growing district was established. More than three decades later, we're as passionate as ever about making authentic to be shared and enjoyed. Our award-winning winemaking team use sustainable methods ensure the quality and consistency of our wines. From grape-picking in our 60 hectares of vineyards to bottling at our Hawke's Bay winery, there is hands-on care throughout the entire winemaking process.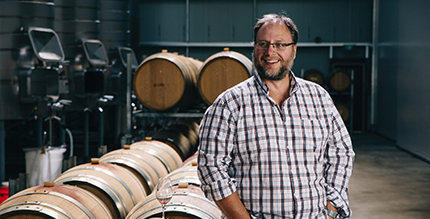 Winemaker Profile
PAUL SMITH, Head Winemaker. Paul's first vintage was with Pask in 2004, from there he went on to travel and experience vintages in various wine regions such as, the Hunter Valley, Yarra Valley & Burgundy. Before returning to Hawke's Bay in 2010 to take up a leadership role with Pask Winery.
MOORE HASZARD, Winemaker at Pask since 2018, bringing with him an enthusiastic and passionate approach to wine making. A graduate of Lincoln University, with a Bachelor of Viticulture & Oenology, Moore also worked in wine, in Australia before returning home to take up positions with Mission Estate & Ngatarawa Wines respectively.
GREG ALLINSON, Winemaker. Moving from the UK to NZ in pursuit of a career in wine making where he Studied at EIT, Hawke's Bay and shortly thereafter joined the Pask Winery team in 2011 where he continues to climb the ranks.