Wines for the Angels among us………
This range was originally developed for the Stonyridge Vineyard Restaurant, but has become so successful the team decided to make it available to the trade and export market. To achieve the style they want, Stonyridge have created joint venture relationships with some of New Zealand's top winemakers, and work with them to produce the outstanding wines that we have designed. The hallmarks of this range are distinctive varietal characteristics and integrity, low acidity and extremely ripe fruit. These are wines to be loved and enjoyed and yet have the ability to stand up against some of the finest wines in their categories.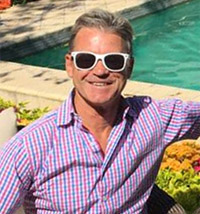 Winemaker Profile
Stephen White - Owner/ Chief Winemaker

Graduating with a Diploma in Horticulture at Lincoln, University of Canterbury, Stephen then blasted off to sea on the Round The World Yacht Race in search of the meaning of life. He found it sitting under an olive tree in Tuscany, with a glass of red wine in hand… and so Stonyridge was conceived.