Mount Gay Rum is the product of over 300 years of knowledge, experience and refinement applied to the process of making rum. Each of the rum's complex flavours have been coaxed from natural Barbadian ingredients and the input of many generations of master blenders.

Mount Gay rums are crafted from the finest Caribbean sugar cane molasses combined with pure coral-filtered water. They are made from a blend of single column and double copper pot distillates, all matured in toasted oak casks that previously held Bourbon. This artisanal process gives Mount Gay its unique style and rich taste.

The name 'Mount Gay' comes from Sir John Gay. He came into the rum business when taking over management of a friend's plantation and distillery that stood on a hilltop in St. Lucy, Barbados.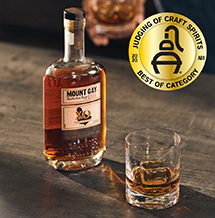 Profile
Through centuries of experimentations the blending of single- and double-distillates has become an art for Mount Gay.