Mandarine Napoleon - a premium, sophisticated citrus fruit liqueur. Originating in the early 1800's in Belgium, Mandarine Napoleon was first created for the Emperor Napoleon Bonaparte initially macerating mandarin peels in cognac. This premium citrus liqueur is now combined with twenty seven herbs and spices from around the world and mandarins sourced from the best orchards in Sicily and the South Eastern region of Spain. Distinctive, spicy, intensive mandarin flavour - with a rich fruit - driven after - taste, Mandarine Napoleon is a liqueur full of zest and is best consumed straight, on the rocks, mixed in cocktails or as a refreshing long drink.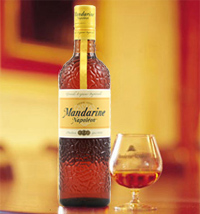 Profile
A liqueur made of rare tangerines, whose skins are macerated in grape brandy. 40% alcohol by volume. Antoine-Francois de Fourcroy had the idea of macerating mandarins in alcohol then blending the resulting distillate with cognac. Napoleon himself was so taken with this new liqueur that he often invited Fourcroy to share a glass with him.
The result - Mandarine Napoleon was born. It was first bottled in 1892 and the recipe remains a closely guarded secret still held by the Foucroy family.