Founded in 1815 in a suburb of Edinburgh, Charles Mackinlay & Co Ltd, started production of whisky in 1860's. In 1907, their whisky was selected by Lord Ernest Shackleton as official Scotch whisky and brought to his Antarctic hut. Having been inherited over several generations, the Mackinlay secret technique of blending continues to offer gorgeous flavour, aroma and a smooth, mellow taste that is typical with classic Scotch whisky.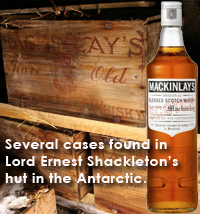 Profile
Today the Original Mackinlay continues asserting its claim to be one of the great traditional Scotch whiskies as it was when under the strict control of master blender Donald Mackinlay, the fifth generation of the family.
One hundred and ninety years of experience go into the unique skill of achieving a perfect balance of malts and grains, of providing a distinctive five year old with a rounder more mellow quality. Charles Mackinlay and Company are fortunate to be part of a group owning some of the finest distilleries in Scotland.