Katnook's rich history stretches back to 1896, when Coonawarra's first vintage was crafted in our Woolshed by entrepreneurial wine pioneer, John Riddoch - who immigrated from Scotland. He recognised the enormous potential of the maritime climate and unique terra rossa soils which now define Coonawarra wine styles. Riddoch planted 140 acres of vines and his first vintage in 1895 was a modest event in a neighbouring nursery shed. John Riddoch died aged 73 in the Federation year 1901 and Coonawarra struggled as a winemaking district for the next fifty years. Most of the grapes were used for brandy or fortified winemaking. In 1951, Samuel Wynn recognised the potential of Coonawarra's remarkable strip of terra rossa soil and bought the Riddoch cellars, now Wynns.

In 1971, the first vines of a new era for Katnook were planted, after an extended period of farming on the property and the woolshed being used as a sheep station. Over the next decade, great attention was paid to executing superior viticultural management. The first commercial vintage was made in 1980 by winemaker – Wayne Stehbens in the 'Katnook' woolshed, just as Riddoch had done 84 years earlier. When Wayne passed away in 2017, he was one of the longest serving and most successful winemaker's in Australia's history. He was suceeded in July 2018 by current winemaker, South Australian Tim Heath.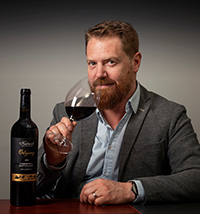 Winemaker Profile
Tim Heath joined Katnook Coonawarra in July 2018, taking over from founding winemaker Wayne Stehbens. Prior to this, Tim was winemaker for fourteen years at Cloudy Bay, New Zealand. Tim brings a wealth of international expertise and creative flair that is sure to take Katnook into an exciting future.

Tim is assisted by winemaker Dan McNicol, who joined Katnook in 2019 after 7 years experience in McLaren Vale.