With the help of some decidedly tasty grapes, Jules Taylor handcrafts a small collection of top quality wines for all lovers of fine wine. Consistent, distinctive drops that echo the land that serves them up. Crafted, owned and run in Marlborough by Jules and her husband George, Jules Taylor Wines is the successful result of big dreams, hard work and a dedicated team.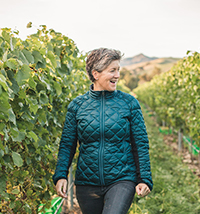 Winemaker Profile
Jules has always been keen for a challenge, after completing a bachelor of science she made a sharp right-hand turn taking on a post-grad degree in viticulture and winemaking at Lincoln University. A decision that changed her life.
On the hunt for more knowledge, Jules explored the world's winemaking regions, expanding her horizons, getting a hands-on education and adding to her book of tricks. She learned the ins and outs of traditional winemaking and her love of fine wine. Returning to Marlborough Jules established quite the name for herself and sprinted up the winemaker ladder. She led the pack as Senior Winemaker at one of New Zealand's largest wineries and was sought after by a number of others. But with sales projections and marketers calling the shots, it was time for a change. It was time to let the wine do the talking.
Initially, Jules Taylor Wines emerged as a little moonlighting project with a mere 400 cases. Five years, two children and a few thousand cases later, Jules Taylor Wines was officially established.
Still family-owned and operated in Marlborough by Jules and George, Jules Taylor Wines is now an internationally-recognised wine brand with worldwide fans.