Jack Daniel's Tennessee Honey is crafted with world-renowned Jack Daniel's Tennessee Whiskey. The whiskey is mingled with a proprietary honey liqueur resulting in a unique, smooth offering.
"In every sense of the word, this is a natural" says Jack Daniel's Master Taster Jeff Norman. "Jack Daniel's Tennessee Honey brings together two complementary tastes in a new way. The quality and character of Tennessee Honey is in keeping with the Jack Daniel's tradition, and we think our friends will be pleasantly surprised with the new offering".
Jeff Norman noted that the flavour characteristics of honey greatly complement Jack Daniel's uniquely smooth charcoal-mellowed character. With hints of honey and other natural flavours creating a complex taste profile, Jeff says the product is unlike any other offering in the honey category.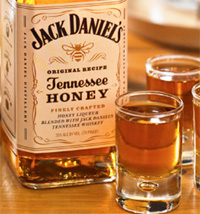 Profile
"Jack Daniel's Tennessee Honey is the perfect name for this product because each bottle is made with real honey and our Tennessee Whiskey made in Lynchburg", said Jeff.
"Obviously, it's unique in that regard. Nothing else is made with Jack".
"Whether it's chilled straight or served in drinks with other mixers like lemonade or ginger ale, we think our friends will really love its unique taste and smooth character", Jeff adds.