The classic taste of Jack Daniel's Whiskey, perfectly paired with cola in a conveniently pre-made RTD. Jack Daniel's RTD is made with the same whiskey painstakingly mellowed drop by drop through 10 feet of maple sugar. This ensures the familiar smoothness folks have come to expect of Jack Daniel's charcoal mellowing – which makes Jack Daniels what it is – a Tennessee Whiskey and not a Bourbon. Available in both cans and bottles.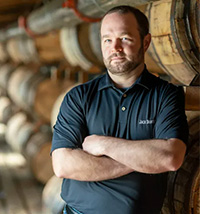 Profile
Jimmy Bedford retired as Master Distiller on March 31, 2008, after 20 years in that position and a total of 40 years as a Jack Daniel's employee. Jimmy's position has been filled by Jeff Arnett, a native Tennessean who becomes only the 7th Master Distiller in the 142 year history of Jack Daniel's. Jeff has worked for the Distillery since 2001 in a variety of capacities, and just as Jim did in his role as Master Distiller, he now oversees the entire whiskey-making process of milling, yeasting, fermentation, distillation, charcoal mellowing, and maturation.
"It's been a privilege to work with Jim Bedford and learn the trade over the past several years," Jeff says. "I look forward to carrying on the Jack Daniel's tradition and following Mr. Jack's guiding words of "every day we make it, we'll make it the best we can."