"La dolce vita e passione" – In 1887, master winemaker Francesco Mionetto opened the winery in Valdobbiadene, in the heart of the Prosecco area, just north of Venice. His love and passion for the region and its wines are still to this day a fundamental value for this unique winery.

Mionetto has become a flagship for the area and a shining example of Prosecco production on the international scene. Mionetto's DNA is an integration of heritage, premium quality, taste and style, where everything comes together as a single, unique emotion.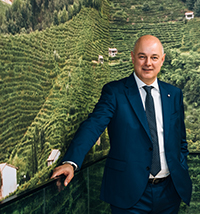 Winemaker Profile
Alessio del Savio was protégé to Sergio Mionetto for 8 years. Sergio retired 2009 as winemaker passing the torch to Alessio del Savio. Alessio is the head Winemaker + CEO and spokesman of Management Board Mionetto Spa / Member of the Board of Directors of the Consorzio di Tutela del Prosecco D.O.C. + member of National Council of the Italian Wine Union.