Founded in 1880 as California's 29th bonded winery, Geyser Peak Winery has more than 135 years of winemaking history in Sonoma County. The original winery, built in 1882, was perched on a hillside across from Geyser Peak Mountain, Over millennia, the geothermal activity of this special place created the diverse soil profiles that make this region exceptionally well suited to wine grape cultivation.
Geyser Peak Winery, renowned for aromatic whites and rich reds, has been at the forefront of quality wine production since its earliest days. Grapes are sourced from prime vineyards that capture the essence of Sonoma, particularly Alexander Valley and Russian River Valley. Geyser Peak Winery is one of the most award-winning wineries in Sonoma County, named "Winery of the Year" by Wine & Spirits an unprecedented nine times since 1993.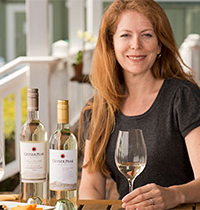 Winemaker Profile
Winemaker Ondine Chattan has just completed her 15th harvest with Geyser Peak Winery. Under her leadership, the winemaking team has honed and refined the now distinctive style of our wines, introducing innovative production techniques, and enthusiastically promoting the Alexander Valley and our broad portfolio of award-winning wines. A native of Marin County, Ondine spent a great deal of time in Sonoma Wine Country during her childhood, where she fell in love with the wine industry at an early age. This passion in her soul has never wavered.