Hardys was founded by English immigrant Thomas Hardy in 1853. Arriving in Australia in 1850 from Devon, England, aboard the ship "British Empire" with his cousin Johanna, Thomas Hardy was regarded as a young man of intelligence and vision beyond his years. Hardy's vision was to "create wines that would be prized in all markets of the world". True to his vision he was awarded gold medals and commendations at international wine shows including Bordeaux in 1883 and Paris in 1889. Today, after 27 vintages abroad and in Australia Hardy's Wines are today under the custodianship of its fifth generation, William (Bill) Hardy. He now travels around Australia and the world promoting his family's proud history as well as the stories and the wines of Hardys.

The great Thomas Hardy legacy lives on today through five generations of Hardy family involvement, overseeing expansion into new Australian viticulture regions, winemaking advances and global distribution. Somewhere behind each of Hardys wines lingers the spirit of Thomas Hardy.

Hardys Varietal Range (VR) is made up of fruity and easy drinking wines displaying true varietal character. The range is created for everyone to enjoy and share in the experience and diversity of great wine. The VR range retains the purity of single varieties without the complexity of secondary winemaking practices.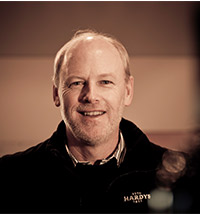 Winemaker Profile
Chief Winemaker, Paul Lapsley, is the 19th Chief Winemaker and, like all his predecessors, his mission is to fulfil Thomas Hardy's vision. His dedication and passion for winemaking ensure that all of the wines continue to push the boundaries of viticuled whilst maintaing the high quality of wines for which Hardy's is famous for.