Hardy's is a family wine company, established by Thomas Hardy in 1853 after emigrating from Devon, England. The great Thomas Hardy legacy lives on today through five generations of Hardy family involvement, overseeing expansion into new Australian viticulture regions, winemaking advances and global distribution. Somewhere behind each of Hardys wines lingers the spirit of Thomas Hardy. Hardy's Wines are today under the custodianship of its fifth generation, William (Bill) Hardy.
Old Tom Nottage was the nephew of Thomas Hardy. He worked for his uncle for more than 66 years, through two generations of the Hardy family. His dedication has been recognised with this range, and the renaming of one of the prime vineyards, to Nottage Hill.

Since then Nottage Hill has grown in popularity and every bottle is a vibrant, full-bodied and rich expression of classic Australian grape varietals; delivering a rare concentration of fruit flavour together with a soft, smooth palate texture.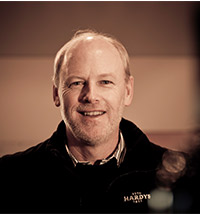 Winemaker Profile
Chief Winemaker, Paul Lapsley, is the 19th Chief Winemaker and, like all his predecessors, his mission is to fulfil Thomas Hardy's vision. His dedication and passion for winemaking ensure that all of the wines continue to push the boundaries of viticuled whilst maintaing the high quality of wines for which Hardy's is famous for.