Growers Mark are apart of the Farmers Market Wine Company. Farmers Market was founded in 2009, as a response to the growing dominance of large multi-national companies within the New Zealand wine trade. By working with families at the heart of the New Zealand wine industry - the grape growers - Farmers Market Wine Company has built a co-operative focused on ensuring these hard working people are provided a fair deal for the fruits of their labour.

Every great wine is made in the vineyard and at Grower's Mark, we champion our grape growers and wine farmers. Every farmer has a 'reserve block' or a few rows he keeps for himself, be it bird, beast or vegetable. This is the idea behind Grower's Mark, the wines are the proprietor's reserve of the Farmers Market Wine Company.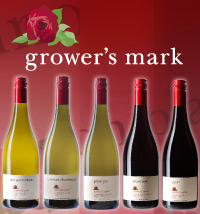 Winemaker Profile
The Rose - Our Growers Mark of Quality & Sustainability.
Frequently planted along the edge of vineyards, roses serve as an early warning system to protect the grapevines. They also represent our move to sustainable winegrowing where our New Zealand Grape Growers must adhere to practices that are economically viable, socially responsible and environmentally sound.