Grant Burge Wines, a proud Barossa winery dedicated to crafting award-winning wines.
Grant Burge Wines was established in 1988 and is located in the heart of the Barossa Valley. Our wines are renowned all over the world for their consistent quality and integrity, allowing the terroir of the hallowed Barossa Valley to speak for itself through minimal intervention winemaking practices and careful vineyard management.
The Grant Burge team is dedicated to the Barossa region, and believes fine wines are born in the vineyard. We source fruit from vineyards planted throughout the Barossa, and each planting features individual microclimates and characters, with grape varieties matched to the vineyards, ensuring harvests are of the highest quality.
Grant Burge Wines has been rated a 5 Red Star Winery 11 years in a row by James Halliday Australian Wine Companion.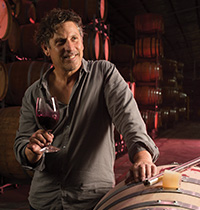 Winemaker Profile
Craig Stansborough, Chief Winemaker Grant Burge Wines.

Born in Gawler, on the edge of the Barossa Valley, Craig grew up with the wine industry around him. He started as a cellar hand with B Seppelt & Son in 1983, firstly at Chateau Tanunda and then later at Seppeltsfield. He lives on a property in Williamstown, and tends a small vineyard.
Craig joined Grant Burge Wines in 1993 as Cellar Manager and was soon promoted to Assistant Winemaker in 1994, Winemaker in 1995 and Senior Winemaker in 1997, with his meteoric rise within the company being due to his enormous talents, leadership, inquisitive mind, and his unrelenting passion for winemaking.