Geoff Merrill has continued to gain national and international recognition for his distinctive style of winemaking and his zest for life.
Geoff established Stratmer Vineyards in 1980, and has vineyards in three of Australia's classic viticultural regions, 'Pimpala Vineyard' in McLaren Vale, 'Graymoor Vineyard' in Coonawarra and the 'Pogue Vineyard' in the Goulburn Valley.
The individual growing conditions of each site affords the unique opportunity of being able to blend wines highlighting the best of what each region has to offer.
The Geoff Merrill winemaking philosophy has been and always will be, to make wine that allows regional, varietal and vintage expression, without excessive winemaker intervention.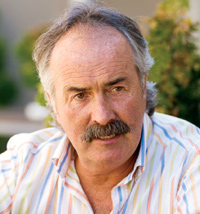 Winemaker Profile
Young Geoff Merrill was raised on a sheep station in the far north of South Australia, until his family moved to the Barossa Valley in 1964 when Geoff was just 11 years old. Unsurprisingly, this is where Geoff's links with the wine industry were first forged.

At age 17, Geoff joined B Seppelt & Son where he embarked on a 4 year winemaking traineeship. Following this, he was lured to South Africa in 1974 with the opportunity to work as an Experimental Winemaker with Stellenbosch Farmers Winery, after which he set off to explore Europe.

Returning to Australia in late 1975, Geoff joined Chateau Reynella as Assistant Winemaker and was promoted to Senior Winemaker just 2 years later. He held this position until 1985 when he became a Consultant Winemaker for Thomas Hardy & Sons, who bought Chateau Reynella in 1982.

Winner of the Jimmy Watson Trophy - 2005