The new Gentleman Jack & Cola RTD will give the Jack Daniel's trademark access to the super-premium RTD category, which is the fastest growing segment of the New Zealand RTD market. Gentleman Jack & Cola is the first super-premium RTD to be based predominantly on whiskey as the primary indicator for a quality of offering versus one of higher ABV. Smoothness is a key consumer benefit in taste of premium spirits. Gentleman Jack is the only twice charcoal mellowed whiskey in the world, offering the smoothest taste profile of any super-premium whiskey, and with Gentleman Jack we invite consumers to truly taste the difference.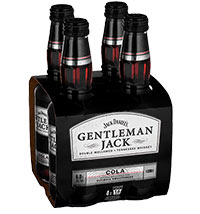 Profile
RTDs have many benefits, such as convenience, sociability, accessibility, and brand status, but the key driver is the spirit itself.
Existing premium RTDs have focused on the quantity of spirit rather than the quality, reinforcing that RTDs are not particularly aspirational.
A more refined RTD where the smooth taste of premium quality whiskey took centre stage would really hit the mark - which is where Gentleman Jack & Cola steps in.
Enjoy Responsibly!