Impossible to miss, the small jewel of Domaine Jessiaume sits welcomingly at the entrance to the tiny spa town of Santenay. Built in 1850, it comprises over 37 acres, with a large plot in Santenay, important holdings in the Premiers Crus Auxey Duresses Les Ecusseaux and Volnay Les Brouillards vineyards, and a terrific section of the Cent Vignes vineyard, just behind the city of Beaune. The Jessiaumes are, in fact, the biggest landowners in Santenay. Domaine Jessiaume established their negociant business Maison Jessiaume in 2008 and a formidable reputation as a small negociant eleveur of unparalleled quality has been formed to complement the existing Domaine holdings.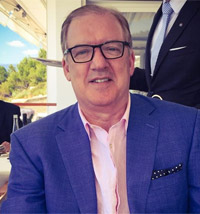 Winemaker Profile
It was Rangers Football Club that brought Sir David Murray public recognition and then fame during his 23 year ownership. Though his fortune has more to do with a very successful metal business - (i.e. Murray International Metals Limited) - which he had set up at the age of 23 - and also key property development.
Domaine Jessiaume now owned by the dynamic Sir David Murray since 2006, (Domaine Jessiaume are in fact, the biggest landowners in Santenay) - he brings an infusion of resources and passion to the property; working closely with local experienced winemakers and viticultural consultants - to craft boutique, 'terroir specific' wines.
Producing wines with elegance and finesse with well integrated tannins. The Jessiaume Philosophy centres on great respect for the environment, sustainable practices and controlling yields.