Chateau Routas is a spectacularly picturesque estate in the heart of Provence, lodged midway between the French Riviera and the foothills of the Alps. Overlooking miles of wooded hillsides and rivers, it is surrounded by tiny medieval villages hugging steep cliffs.

The soil can vary dramatically, resulting in small, randomly shaped vineyards, some as red as crushed brick, others home to crumbling grey limestone mixed with bright red stones that bleach in the hot summer sun. At 1,300 feet above sea level, the elevation is among the appellation's highest, providing cool nights that slow the ripening of the grapes and contribute to the complexity of the wines.

Farmed sustainably, the estate has 135 of its 642 acres under vine. Routas has always had a strong reputation for its Provence rose.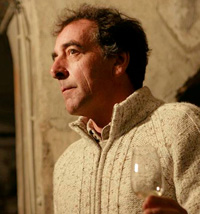 Winemaker Profile
Jean Louis was raised about five hours to the north in Chablis, with its famed limestone soil. Upon leaving school, however, he headed for Provence and learned the art of making exquisite rose at Bandol's Domaine Ott, a skill he has brought to bear on the acclaimed Chateau Routas rose.

A tall man with worker hands and half-moon eyebrows, Jean Louis loves to discuss his philosophy of wine. He speaks of grape varieties in almost human terms. "It is not a good idea ever to have a 50/50 blend," he said; "they fight each other for dominance."