2020 has seen De Kuyper Royal Distillers named "Liqueur Producer of the Year" at the International Spirits Challenge (ISC) for the second year running. These fantastic results reinforce De Kuyper's position as leaders in the global liqueurs industry.

De Kuyper originated in 1695 in Rotterdam, Netherlands and has developed over 325 years into a global player. De Kuyper is 100% family owned, and it is managed by the 11th generation of the De Kuyper Family

Their liqueurs are highly regarded by many international bartender and with over 40 flavours there's something for every occasion. De Kuyper products are available in more than 100 countries and are the best selling Liqueur range in the world.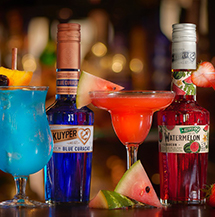 Profile
In 1920, De Kuyper began producing liqueurs and, by the 1930's De Kuyper had produced almost twenty varieties including Apricot Brandy, Cherry Brandy, Triple Sec and Creme de Menthe. In the 1960's liqueurs became De Kuyper's core business and they sponsored the first-ever cocktail competitions. In 1955 on it's 300th Anniversary and in recognition of three centuries of distilling excellence, De Kuyper was awarded the Dutch title 'Royal Distillers'.