The Chevallier family has lived at Aspall Hall Farm in the parish of Aspall in Suffolk, England since 1702. In 1725, Clement Chevallier inherited Aspall from his cousin and set about making cyder that was not available in Suffolk at that moment in history. Today, the business is owned and managed by the eighth generation of the Chevallier family, and they continue to practice the values and commitment to quality set in place by Clement all those years ago. Aspall produce a range of award winning apple juice, cyders and vinegars. The product range has won over 20 awards since 2000, including Worlds Best Cider. Aspall Cyder is the only cyder to have won 'Supreme Winner' at the International Beer and Cider Competition.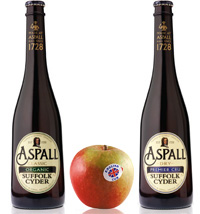 Profile
Aspall Suffolk Cyder has only ever been made with the fresh pressed juice of whole apples. For 8 generations, the use of concentrates to stretch fermentations has never been part of the Aspall philosophy and continues to be a complete anathema to the family.
Made with the finest raw materials and with painstaking care and attention to detail, our cyder is one of the finest drinks available and deserves recognition as such.
A special cider blend that captures the best that each apple provides - Cox for sweetness, Bramley for acidity and apple aroma, and finally, a combination of bittersweet apples to give a heady perfume, body and a depth of finish.