Banrock Station have been making wine in Southern Australia since the 1960's. Their Banrock vineyard and Riverland home sit side-by-side on the fertile banks of the the meandering Murray River. This area of preserved natural beauty is what makes their brand and wine so unique. Banrock Station's flavoursome, easy-drinking wines appeal to palates the world over. Each one of them comes with the added satisfaction of helping us help the earth.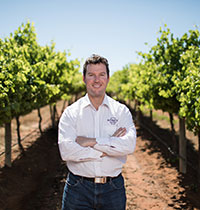 Winemaker Profile
Chief Winemaker, Paul Burnett.

Growing up in South Australia meant that Paul Burnett was close to some of Australia's, and even the world's best vineyards and wineries. So it's no surprise that he ended up in winemaking.
After travelling throughout the U.S.A and Italy and gaining experience in a number of incredible wineries, Paul returned to South Australia and began his work at Banrock Station.