En-route to South Australia in 1839, John Reynell obtained vine cuttings from the Cape of Good Hope and planted them at McLaren Vale, with that click of the secateurs becoming the infant colony's first vigneron.

By 1845, he had become McLaren Vale's largest producer, and Reynell's descendants went on to establish a formidable reputation via a string of award-winning wines. Following a series of family tragedies, the family relinquished control of the company in 1953. Despite this, Reynella, as a brand, continues to trade successfully on its prestigious reputation.

Reynella premium McLaren Vale wines are traditionally crafted using basket presses and open fermenters to produce wines that are acclaim and tribute to the brands heritage.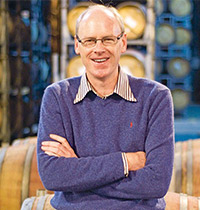 Winemaker Profile
Chief Winemaker Paul Lapsley is driven to ensuring every wine is of the highest calibre. Paul is by his own admission, a grape man – instilling in his team that the best wines can only be created using premium grapes combined with vision, innovation and courage in viticulture and winemaking.